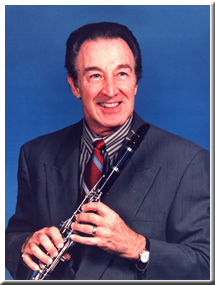 In recognition of outstanding achievement and artistic contributions to jazz

Honored by Gainesville Friends of Jazz
2005 Bonifaccio "Buddy" DeFranco

Buddy DeFranco has the unprecedented distinction of winning 20 DownBeat magazine annual awards as the number one jazz clarinetist. He is credited with leading the way for jazz clarinetists from the swing era to the age of bop. Buddy has performed three times as part of the Gainesville Friends of Jazz Concert Series.

Buddy has set the standard for technical brilliance, improvisational virtuosity and creative warmth for jazz musicians. He is one of the most imaginative clarinetists playing today. Buddy has toured throughout Europe, Japan, South America, South Africa and the U.S. He has performed with a Who's Who of Jazz Greats including Art Blakey, Nat King Cole, Herb Ellis, Stan Getz, Terry Gibbs, Dizzy Gillespie, Billie Holiday, Charlie Parker, Oscar Peterson, Art Tatum and Mel Torme.