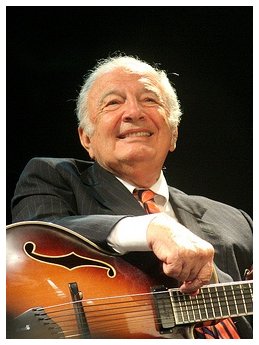 In recognition of outstanding achievement and artistic contributions to jazz

Honored by Gainesville Friends of Jazz
2003 John "Bucky" Pizzarelli

Bucky Pizzarelli has been helping to keep mainstream and traditional jazz alive for more than half a century. He is one of the premier guitarists in jazz and is the inauguaral inductee into the Gainesville Friends of Jazz Hall of Fame. Bucky has performed three times as part of the Gainesville Friends of Jazz Concert Series.

Bucky's legendary career spans the years from the Vaughan Monroe Orchestra to White House concerts with Benny Goodman and Frank Sinatra to Carnegie Hall to world acclaim as a festival and jazz party superstar. His solo recordings have been described in Just Jazz Guitar magazine as masterpieces of performance by a true virtuoso. Bucky has played in the Doc Severinson Band on The Tonight Show and his recording credits include duos with Bud Freeman, Stephane Grappelli, Zoot Sims and his son, John Pizzarelli.